Docs Missus Sippi
Foaled May 15 1998
Soild Bred Sorrel Paint Mare
 
Moxie is a true diamond in the ruff. Bought in 2007 with cut up legs we have never regretted buying this mare. Once recovered from her cut legs and broken skull we found out this mare is FAST and SMART! She was trained to cattle before we bought her so we turned her in to a  team roping mare, and we have also brought in the cows with her... She was trained to the barrels in under a month and running great 2D times (with room for improvement but was bred instead). She is also started on  poles. She is a quiet mare and we are know that she passes that and her many other great traits on to her foals. all Moxie's past foals are well liked by their owners, many of which have come back for more Moxie babies.
 
 Moxie is UC DAVIS color tested as  eeAa !
 
BRED TO OH TAO TIE FOR A MAY 2017 FOAL



Pepperd Sippi (blk Overo)

Jet Flight Show (sorrel Overo)

Jet Stream (sorrel Overo)
Chunky Lil Bug
Foaled May 20 2009
AQHA Black Mare
 
Gypsy, as we call her, is a solid black mare sired by JDS  Dash, who is sired by the great Givemalickin, who sired more than 375 foals, including 13 AAA, 1 AAAT, earning $82,547,as well as foals earning championships in NFR bulldoggin, competive trail riding, highest selling QH at Spruce Meadows and of course barrel horses. Givemalickin was also just recently listed as one of the top Paternal Grandsires !!!!.  She is out of  Talus San  who goes back to reining blood such as, Monkey Joe Star and Passums Monta...

Gypsy had a few month professional training by Kade Mills and Kaye Schlosser and was well on her way to being a great barrel horse when she suffered a severe injury rendering her unsound.  Gypsy will always be a favorite of the family, because of her amazing personality! 

                                          
Bugs Alive in 75 (sorrel)
Circle J Cheyenne Princess
Foaled May 31 1998
37" Silver Bay Pinto
 
Cheyenne is a 37" silver bay pinto mare, (unregistered) She is a full sister to Bella. She was purchased many years ago
 as a birthday gift for me. She is a angel to be around and great mother!. Cheyenne is only a broodmare due to a carting
accident early on. But she shows consistancy in producing very correct, colored, trainable foals......
 
BRED TO FOAL 2019!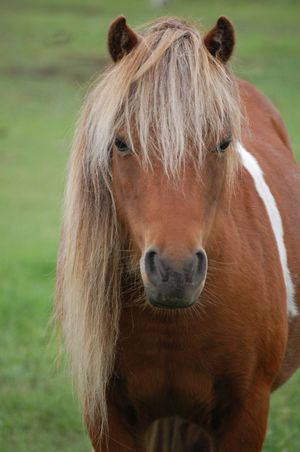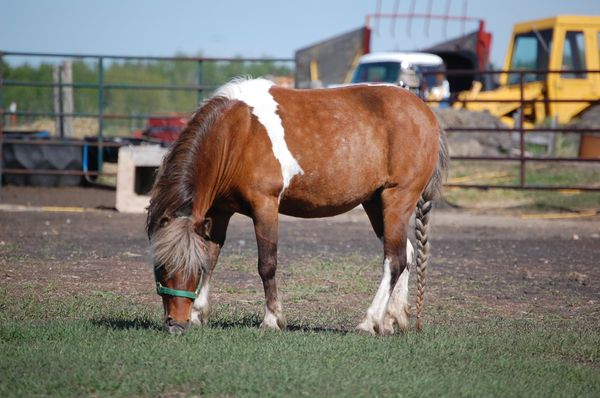 Circle J Cheyenne Princess
North Stars Valdez Y Basan

Hemlocks Brooks Silver Elegance
Circle J Blue Eyed Sioux
30" Bay Miniature Paint
AMHA and canadian Miniature horse registered
Sioux is a small kind little mare. She has produced numerous foals that are in the show ring. We are happy to get the chance to own her. We purchased her from Ramblin Ranch miniatures in June of 2011. He bloodlines show how good she is and she will make a great addition. 
RETIRED HEALTHY AND HAPPY!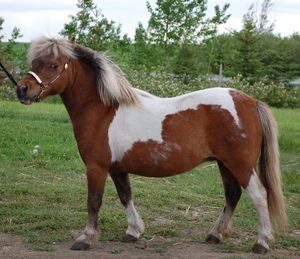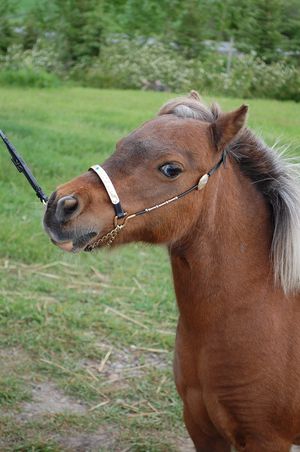 Circle J Forever Yourz
Foaled April 1 2001
37" Black Pinto
Pepsi is a 37" black pinto with a little bit of roaning. She was purchased in 2005 with her foal, Pepsi is a consistant producer that has made all pintos (possibly homozygous) Pepsi is trained to drive although she doesn't do it often. She loves it as well she loves to be with people.. She is Sired by North Stars Valdez Y Basan  out of a blue roan mare of Circle Js.


BRED  FOAL 2019!