Oh Tao Tie 
2003 Grey Appendix Stallion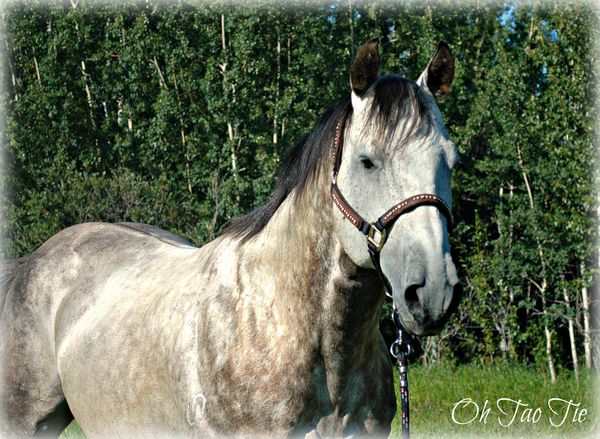 OH TAO TIE has the looks and the pedigree to make him a great sire, of race horses, as well as a barrel sire. He was started for the track, then unfortunately was never raced. He was then re started as a ranch horse. and then left till now when we have purchased him... he will be restarted as a barrel horse.

His sire WHITE TIE, was a legend in himself, starting as one of the only Homozygous grey stallions, in both the Quarter Horse world and the Thoroughbred world, White Tie, who had a speed index of 97, had a career earnings of $34212.00, with 15 starts, 3 wins, 5 seconds, and 3 thirds. In 1984 White Tie earned his REGISTER OF MERIT. White Tie offspring have earned $1,017,875.00.  TUXER was White Tie's most recognized offspring, with a speed index of 133, with earnings of $64,948.  White Tie's dam TOPLESS DANCER is a stakes placed winner of $64,892 and is a half sister to Pie in the Sky.
(SI 101)  

BEDUINO is the  sire of WHITE TIE. He has $ 13,630.00 in earnings and his record is 13-6-2. He has produced numerous offspring that excel in all fields of work, from the track to the arena to the ranch.

Oh Tao Tie's dam, SHIMMERY GLOW is sired by PASS EM UP, a Thoroughbred stallion, offspring had earnings of $8,197,097.00. Of Pass Em Up's 1651 registered foals 801 earned their Register Of Merit. Pass Em Up is sired by NOHOLME II  and out of a mare named  Vista Rose.

Standing at RANAMAN RANCH in Trochu Alberta
Live cover(Hand breeding)
LFG
5 PANEL TESTED NEGATIVE ACROSS THE BOARD
CBHI (Canadian Barrel Horse Incentive) Nominated
APHA Approved
Stud Fee: $650.00CAD
+Mare Care (7.50/day dry...$11.00/day wet)
SOLD TO A GREAT NEW HOME. PLEASE CONTACT US TO REDIRECT YOU.
FIRST CLASS CRIME
2011 AQHA Palomino Stallion
First Class Crime  is a 2011 Palomino son of the legendary CRIME WAVE , who is sired by the late and great FIRST DOWN DASH, si 105, Sired by Dash For Cash, si 114, out of First Prize Rose, si 98 (by Gallant Jet), First Down Dash is the World's All-Time Leading Sire of Racing Quarter Horses. Crimewave also carries great name of Bediuno who has $ 13, 630 in earnings and his record is 13-6-2. He has produced numerous offspring that excel in all fields of work, from the track to the arena to the ranch.

First Class Crime  has a very strong female line as well, his dam is ZIPS PRETTY RIBBONS. She has 4 AAA race horses on her papers and 4 AQHA champions. her sire Pretty Classy Zip is a beautiful jet black stallion by Noor Charge, SI 92 (sire of AAA Race and Performance champions), out of a daughter of Zippo Pat Bars, SI 95 (2002 AQHA Hall of Fame) and out of a daughter of the legendary Poco Pine. Pretty Classy Zips dam, Annie, has had 16 foals and produced multiple winners in Halter and Pleasure. Zip sires baby doll heads, keen minds, very correct conformation, excellent bone and feet, with lots of cow.   RIBBON PAGE  a dunalino/Palomino AQHA champion, produced foals that won in race money earner, Open, Amt and Youth Halter ROMs, Amt Perf. ROM, IBHA World Champions, PHBA Champions, NRCHA, NSBA, NRHA, and NCHA money earners.

First Class Crime  has a great mind to him, learns very fast. He is SUPERSTAKES NOMINATED with the CBHI so our plans is to futurity Milo and show him off a bit. He will also be Nominated to the CBHI when of breeding age!!!

Our plan to train Milo is taking shape. He is loved by his trainers and has an amazing mind and athletic skill abounding. He will soon be running the barrels.

FIRST CLASS CRIMES first babies hit the ground running in 2016, displaying his perfect conformation and strong bone. Watch for updates as they begin to grow and bloom.
First Class Crime is standing  to a limited number of approved mares in 2018!!!!
Don't be disappointed....book your mare today!

5 PANEL TESTED NEGATIVE ACROSS THE BOARD
APHA APPROVED
STUD FEE: $800.00
+Mare Care(7.50/day/dry & $11.00/day wet)
Live Cover(Hand Breeding)
LFG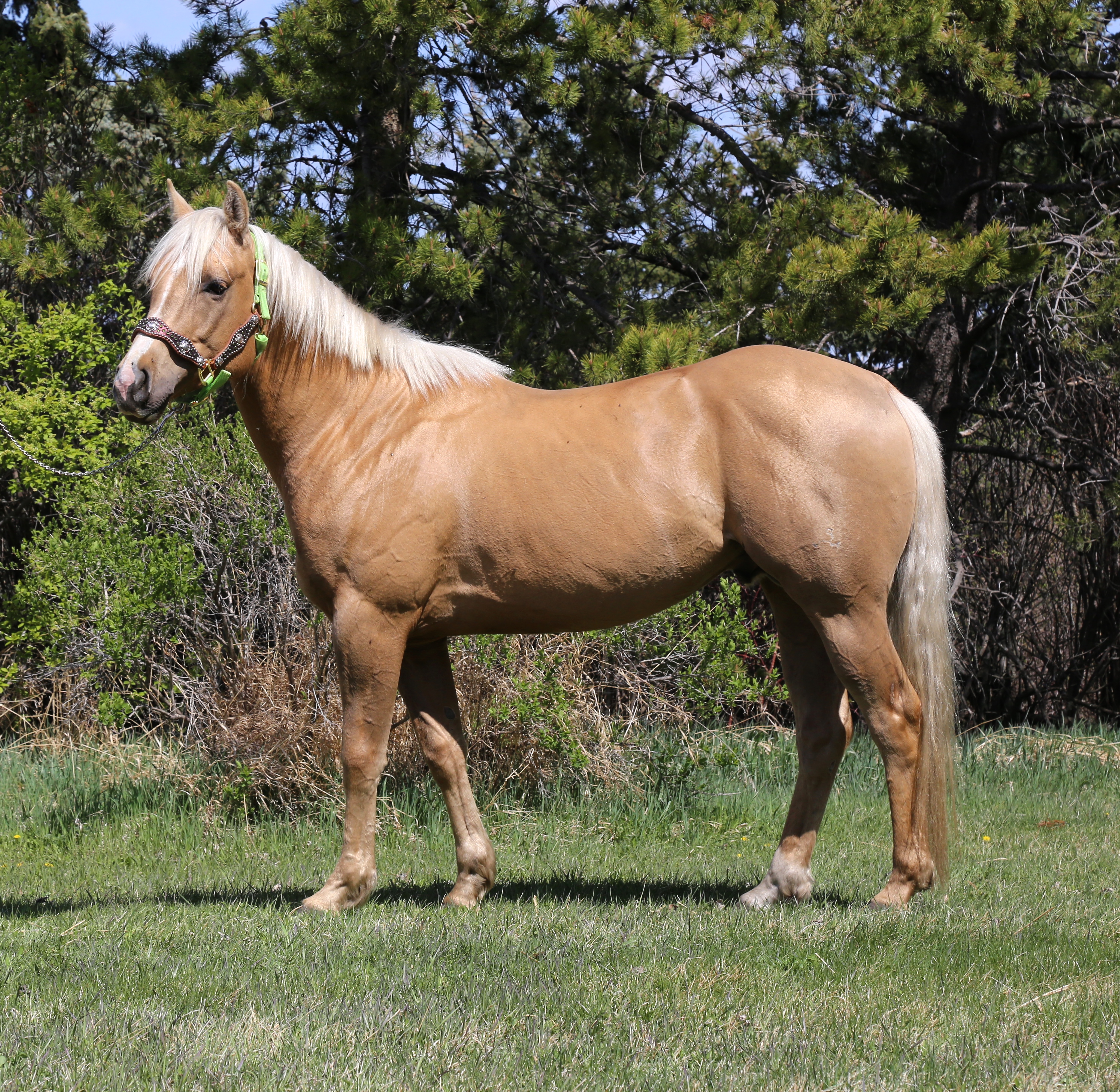 L&L Little Scooter
 Foaled June 2 2002
Silver Bay AMHA registered Stallion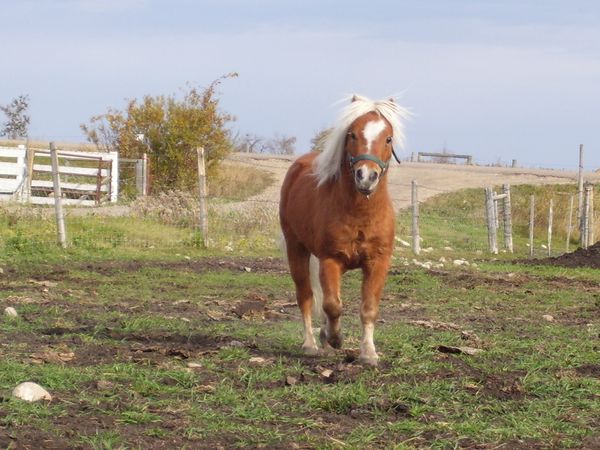 Scooter is a 2002 model. He is sired by one of the great World of Miniatures horses, out of a little palomino mare.
 Scooter is a kind willing stallion with great conformation. He loves to be with his mares or pulling his wagon. Scooter is a gentleman in
the field with the mares and a true sweet heart when people are around.

Scooter has produced entirly color all his foal crops (palomino paints, silver bay paints solid silver bays!). We, as a team
travel around to the local parades and advertise our massage and cubes, here Scooter lets his true colors show! Scooter is unshown due to a injury
as a 2 year old that resulted in him loosing a eye, so judges will be against him in the halter ring where he would do the best.
 
Scooter is UCDAVIS TESTED!!!! EeAa with silver!!!!!
After a great life as stud, Scooter is retired at ROSE POINT FARMS in Didsbury.